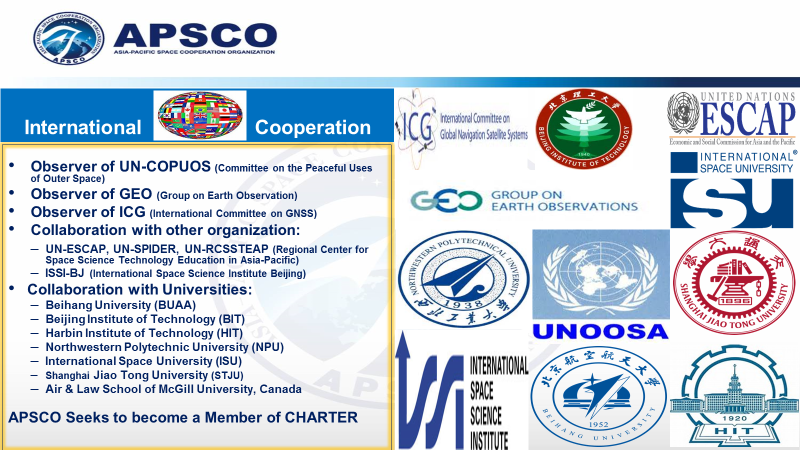 1.APSCO, as an inter-governmental organization, has a legal personality and is governed by APSCO Rules & Regulations. The APSCO CONVENTION-2005, is ratified by eight Member States. APSCO has made a number of legal documents for developing and promoting sustainable cooperative peaceful space activities among its Member States in the Asia-Pacific region and other countries outside Asia-Pacific region and these are:
  a.Convention of the Asia-Pacific Space Cooperation Organization, 2005
  a.Rules of Procedure of APSCO Council
  b.Rules of Procedure of APSCO Administrative Heads Meetings
  c.Financial Regulations of APSCO
  d.Service Regulations of APSCO
  e.Financial Rules of APSCO
  f.Service Rules of APSCO
  g.Administrative Rules on Cooperative Activities of APSCO
  2.APSCO attaches great importance to the notion of 'space as a province of mankind' and maintains its cooperative relationship with the international space community for better space governance through rule of law, and to the benefits of space science and technology applications to the humanity at large. APSCO is a Permanent Observer at the United Nations Committee on Peaceful Uses of Outer Space (UN-COPUOS), Observer of ICG (International Committee on GNSS), and has collaboration with UN-ESCAP, UN-SPIDER and UN-RCSSTEAP (Regional Center for Space Science Technology Education in Asia-Pacific. APSCO is also Observer at the Group on Earth Observations (GEO)。
  3.APSCO has an excellent collaboration and cooperation with United Nations Office for Outer Space Affairs (UN-OOSA) for organizing joint workshops on Space Law & Policy. International Symposiums are held in collaboration with space agencies, and other inter-national world-famous Organizations, Institutions and Universities. APSCO has lateral communication and partnership with ISSI-BJ (International Space Science Institute Beijing), Chinese Society of Astronautics (CSA) and International Academy of Astronautics (IAA), International Astronautical Federation (IAF), Space Foundation, and European Space Agency (ESA)。 The communications pave the way for future programs of APSCO and further strengthening the international cooperation.
  4.APSCO is a Permanent Observer of UN-COPUOS and participates in all of its activities, including Scientific and Technical Sub-committee, Legal Sub-committee and the Plenary Session of COPUOS every year. APSCO Secretariat has been actively participating and supporting Asia-Pacific Regional initiatives under the UN. APSCO is also an Observer of GEO and participates in all its major events in the effort of completing the architectural design of GEOSS. APSCO Secretariat realizes that the IAF and its Congress is generally perceived as a prominent event in the international space community; APSCO has partnership with IAF and in this connection, organizes an exhibition for promotion of APSCO, every year at the IAC.
  5.To address the education and training needs of the Member States, APSCO has established a robust mechanism for Degree Education (Masters and Doctoral Degrees), on-line and off-line trainings, short training courses, space science schools, space youth contest and 'cansat competitions'。 In this connection, value addition is ensured through collaboration with the following:
  a.Beihang University, Beijing, China (BUAA)
  b.Beijing Institute of Technology, Beijing, China (BIT)
  c.Harbin Institute of Technology, Beijing, China (HIT)
  d.Northwestern Polytechnic University, Beijing, China (NPU)
  e.International Space University (ISU)
  f.Shanghai Jiao Tong University, Beijing, China (STJU)
  g.Air & Law School of McGill University, Canada
  6.APSCO, promotes cooperation among Member States in the domain of space science, technology and related applications; provides them with assistance in R&D, applications and training; strives to improvs their space capabilities; and contributes to economic and social development for common prosperity of the Asia-Pacific region. APSCO has been consistently supporting the Member States in capacity building through joint projects, training programs and degree education.
  7.APSCO, is working closely with the international space community to meet this end through collective wisdom, and collaborative approach to provide benefits of space technology and its applications, for the socio-economic development of the peoples in the Asia-Pacific region. APSCO invites more and more countries in the Asia-Pacific region in particular and those outside Asia-Pacific region in general to join hands for a meaningful cooperation to extend benefits of space technology and its applications to a still larger segment of the globe.
【Number of visits:202 clicks】
Related reading: